Day 3 – The EAGLE having performance issues
Early in the morning some people had trouble waking up. Maybe the deal of 50 shots for 25 euros wasn't such a great idea…
Despite the lingering drunkenness, the breakfast was fairly uneventful. Our bellies filled with bread and sweet cherry yoghurt, we entered the taxi-bus and took off towards "Squadrobots" where we were welcomed by Matiss, who is the CEO and one of the founders. During his presentation, he showed us some examples of autonomous moving robots, for example used in sorting packages and delivering food. However, Squadrobots specializes in cleaning robots. These cleaning robots can effectively clean a surface, and can communicate with other robots nearby. If one of the robots fails in cleaning the floor (low battery for example), one of the other robots will take over the task.
After the presentation and a quick question round, it was time for a spectacular demonstration. Unfortunately (as everyone who has ever had to develop anything autonomous knows) robots tend to dislike demos. The designated cleaning robot flat out refused to move more than a single wiggle, even after several reboot attempts were made.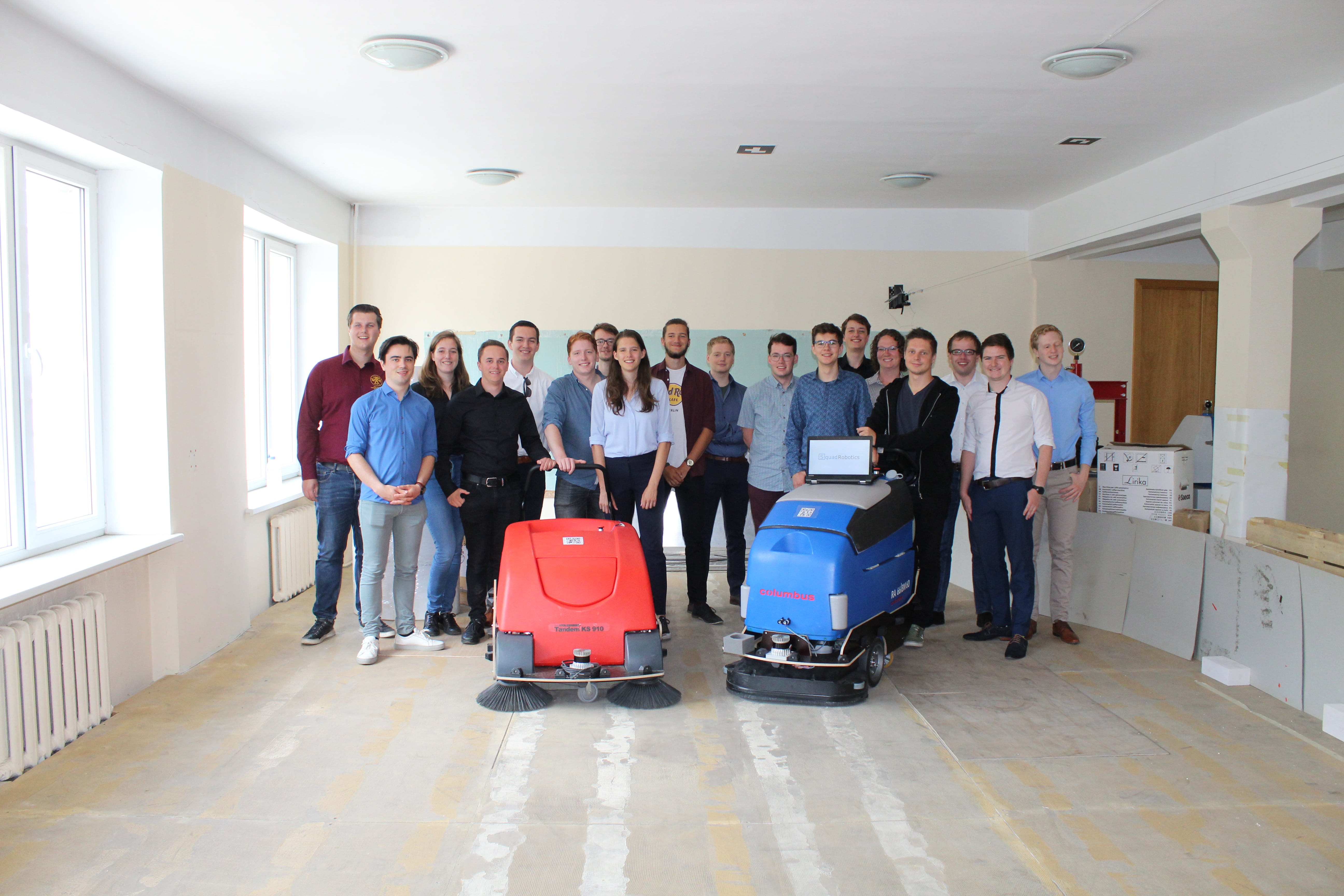 Now it was time for lunch! Matiss showed us a great burger place at their university campus where we could have lunch. If that place would be on our campus, we would have been broke in a couple of days. Because we had a lot of spare time, people played some card games or took a little walk around the neighborhood.
Nutritionally and spiritually recharged, we entered the 17-person bus to undertake the four-hour journey towards Tallinn, Estonia. The bus was equipped with individual airco outlets. This blessed feature was noticed by most upon departure. Unfortunately Heleen and Noud discovered this pleasant refreshment only minutes from reaching our destination. After a quick whiff of cold air we arrived and walked to the hostel. The hostel looks great, apart from the fact that we need to share one shower and one toilet with 12 people! Another annoying fact is that the EAGLE organization have their own private bathroom, which they will not share. After a quick change of clothes we went looking for dinner, as a four-hour bus trip does make you hungry.
The first restaurant we encountered had a tempting €9 for two courses deal. After some CO deliberation we decided that the statistical likelihood of the first restaurant being the optional choice was fairly small. But alas, after encountering a good number of different restaurants we found our way back to the first one. It turned out to be fairly large but completely empty. The serving lady (who recently moved back from the Netherlands to Estonia due to an unsuccessful marriage) told us we could only choose one dish because there was a single cook in the kitchen. We ate the soup and crispy rice and moved on to the Irish pub.
While writing this story, we are enjoying some nice beers at that pub. Also, two people are playing live music, and invited an old friend on the stage (who called himself the drunk bastard), to join them for a song. For now, we will enjoy our drinks and then go to bed, as we need to be ready at 8:30 in the morning.
Bram & Nick